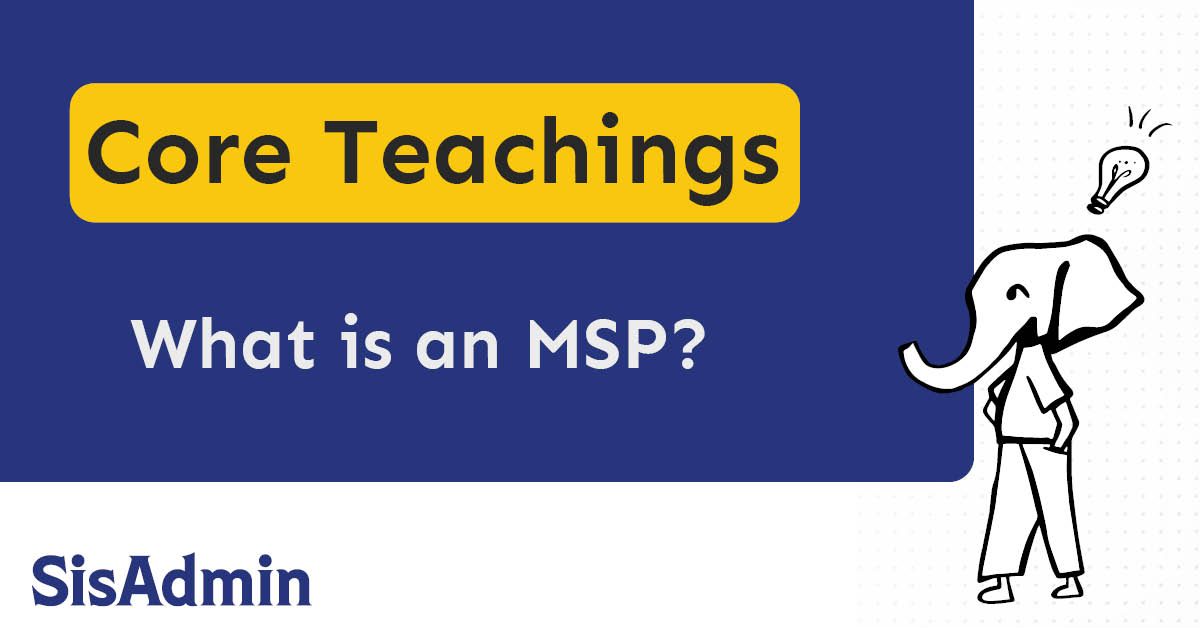 What Is an MSP And What Services Do They Provide?

A term that you will encounter quickly when shopping for outsourced information technology is "MSP." MSP stands for Managed Service Provider, and its textbook definition is:

"An information technology services provider that manages and assumes responsibility for providing a defined set of services to its clients either proactively or as the MSP (not the client) determines that services are needed."

Like many business terms, MSP is oft-overused and its meaning has become subjective at best.  However, a simple but widely-accepted definition is an IT provider that supplies a package of outsourced information technology products and services at a fixed price.
MSP vs In-House IT
If you're in the market for an MSP, you're either curious about what you might be missing or you have determined that your current IT solutions are no longer working. This usually manifests in outgrowing your in-house technician, solo outsourced IT technician, or provider that is no longer meeting your expectations. A single technician, either in-house or outsourced, has limitations, but they may be a good fit for some situations.
What core services should any professional MSP provide?
When evaluating providers, you should note that there are industry-standard products and services. We call this the "everyone stuff." The following products and services should be provided by any professional MSP and may be segmented into tiers or packages such as gold/silver/bronze, remote/onsite, etc. It is important to note that although almost all MSPs include these services, they do not all provide them with the same quality.  See our article "Cheeseburgers and Tech: What makes IT support so expensive?" for a simplified explanation of how MSP's package and price their services.
Technical Support: This is the technical support you receive when you reach out for help. It may be called a help desk, a service desk or a support desk. Variations include remote and onsite support with varying degrees of expertise and commitments such as service-level agreements, response times, and dispatch methods. They should provide competent, reliable, and responsive technical support resources delivered with a courteous, polite, and friendly attitude.
Monitoring & Alerting: This is the part of the service that is fulfilled via automated tools that require human oversight and interaction. These tools monitor for situations and events on your workstations, servers, backup systems and other network infrastructure and alert technicians via automated notifications. These alerts should be responded to and remedied quickly and effectively.
Patching & Updating: This service is provided via automation tools that require human oversight and interaction to ensure operating systems and applications are sufficiently patched and up to date. The purpose is to remedy security vulnerabilities and performance issues that arise over time. Effective patching of systems requires a methodical and disciplined maintenance schedule.
Security: Cybersecurity is a complex issue with numerous levels of protection, cost, and compliance. It's important to note that no person, organization, or government can be 100% secure—it just isn't possible. For most MSPs, the fundamentals of cybersecurity are providing you with essential tools such as anti-virus, anti-malware, and SPAM filtering. Additional levels of protection should also be made available to you by the MSP.
Business Continuity & Disaster Recovery: Simply stated, these are the tools and services necessary to back up your systems and the ability to recover from catastrophic issues. This is arguably the most important fundamental service offering which should be evaluated carefully.
Considering these 30+ Fear-Inducing Cyber Security Statistics, these services are very important!  If you do not currently receive high-quality service in the above-listed areas, or you suspect that the MSP you are evaluating cannot fulfill these basic obligations, you should be concerned!
MSP's come in many shapes and sizes. To learn more about some of the differences, see our article "How do MSP's Differ and Why are the Differences Important?".