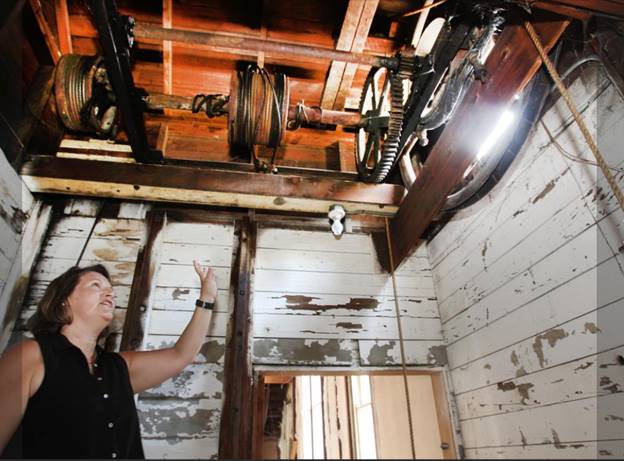 Sisters move their SisAdmin IT firm into an old funeral home

By Melissa Crowe  –  Research Director, Puget Sound Business Journal

Seattle may be the region's tech hub, but Mary Burris will be the first to say the city "was never going to happen" for her.

Burris and her IT company, SisAdmin, found new advantages and potential for growth in an unlikely place — a funeral home in Snohomish.

"It's like a dream come true," Burris said. "It's rough, but it's perfect for me."

The company, a certified Microsoft Small Business Specialist Partner, specializes in managed service IT, essentially outsourced IT. Her clients are companies with anywhere from 20 to 100 PCs.

"We keep businesses running," Burris said.

Burris founded the company in 2000. She wanted her sister to go into business with her as Sisters Administration Services, which later became SisAdmin. Burris' sister, Chris Maier, is by her side as the company's systems analysis lead.

It's a competitive industry with tight margins. Controlling monthly costs is one of the keys to success. At the start of 2017, Burris' goal was $47,000 in new monthly recurring revenue. Since then, she's doubled it.

The Puget Sound region's increasing real estate costs threatened to take a bite out of the business when it outgrew its 2,000-square-foot lease in Bothell.

Burris' monthly cost for office space was poised to double, a jump that could cripple a small company. The 8,000-square-foot hodgepodge of an office in Snohomish was her saving grace.

In June she purchased the $525,000 building, made out of a 1908 farmhouse, funeral home and chapel connected through various hallways and staircases like a life-size maze. Only the chapel and funeral home — totaling about 4,000 square feet — has been renovated. The rest will be completely overhauled.

While some employees are leery of going downstairs, the former funeral home's basement will house a PC assembly station. The former incinerator room will become inventory space. Offices and conference rooms will be upstairs, and two apartments will go in as well.

The space makes room for SisAdmin to expand. Burris is focusing on business development and plans to hire two new positions, making a staff of 15.

"We struggled for years, always making a profit, but it was always meager," Burris said. "When cash is low there are things that you are limited in doing for your staff and your clients."

Five years ago she made a key hire in bringing on Craig Cameron as operations director. That new position allowed her to smooth the company's operations and strategize for growth.

Last year SisAdmin cut down the company's offerings to just one base-rate plan rather than custom plans for any type of company.

There were growing pains, and she lost a handful of clients in the change. However, within six months, they were trickling back in, she said.

"When they come back, then you know you're doing the right things," she said.

The success of her clients is crucial to the success of her business.

John Shanley, CEO of Woodinville-based Labels West Inc., heard about Burris' company eight years ago through word of mouth. At the time, his IT needs were outpacing the capabilities of his staff, and downtime meant potentially losing customers.

Since then, Labels West has doubled in size, increased its computer count and expanded into three buildings.

SisAdmin keeps his business running.

"We've had to rely more and more heavily on our IT infrastructure to get things done," Shanley said. "In the actual manufacturing, contact with customers and marketing – every aspect of the business is touched by IT."

While most of the work can be done remotely, Shanley said SisAdmin's close proximity has been an added benefit, especially if he needs a technician who can make it to his office in 15 minutes.

"It's a pleasure to work with a company that is so proactive," Shanley said. "They're constantly looking for new ways to serve us better and help us sleep better at night."

SisAdmin

Founders: Mary Burris is CEO; Burris' sister, Chris Maier, is systems analysis lead.

Employees: 13

Headquarters: Snohomish

Revenue: Monthly revenue is approaching $200,000

Lessons Learned

Treat people the way you want to be treated – with respect – and it will come back to you tenfold.

Things will go wrong but have the integrity to make it right. Taking responsibility will build tenure with your staff and your clients.

Build your net profit so you can invest in the tools you need to better serve your clients.