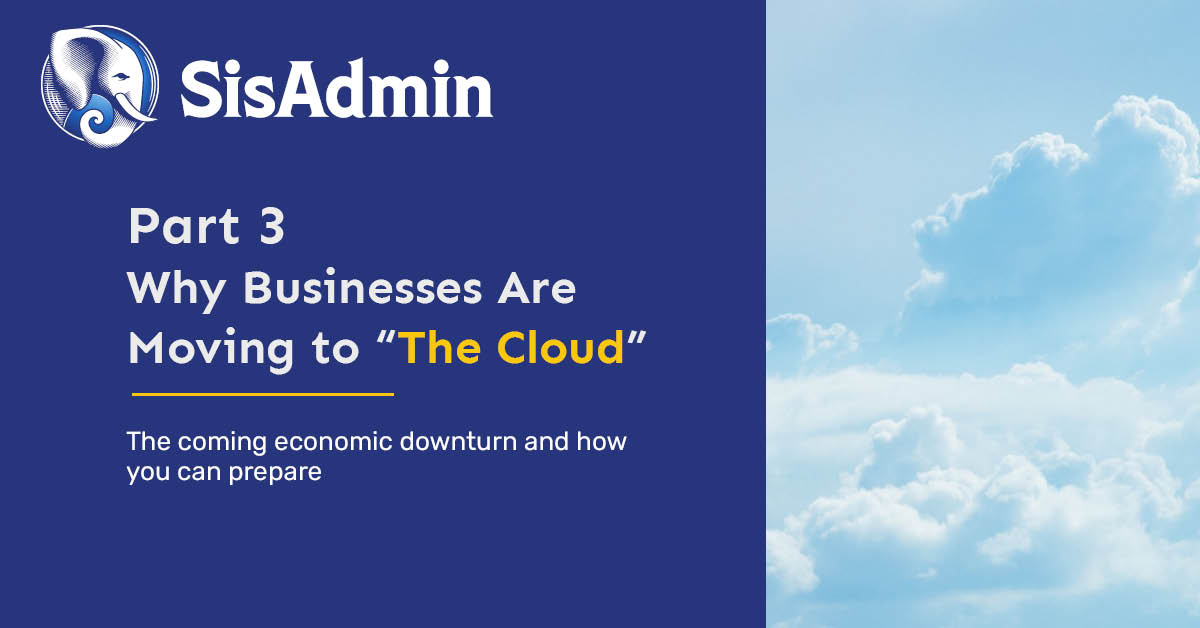 Part 3: How The Cloud Can Save You Money

Businesses in 2023 are feeling the economic pressure of the coming downturn. Purse strings are tightening, and decision makers are being more conservative while looking at options that will bring them the most bang for their buck.

We sat down with our Service Delivery Manager and Professional Services Engineer to see what technology projects are worth the cost and, in the end, will save companies money.

The verdict? Moving to the Cloud. But how?

First, if you don't know what the Cloud is and what it means to move to the Cloud read this article for more information! In Part 2 of this series, we also talked about the 2 big reasons why companies are moving to The Cloud, and these features are also great ways of saving your business money. Take a peek at that article before you continue reading!
Should Small or Medium Sized Businesses Move to The Cloud?
Before we begin the conversation of cost savings, you may already be disqualifying yourself because you consider yourself an SMB (small/medium sized business). The budget may be significantly smaller than larger businesses. But don't be discouraged! Our Professional Services Engineer assures us that SMBs will benefit the most from moving to The Cloud. This is because the cost of a server is significant, whether you are a small or a large business. Hardware is hardware, and it needs to be maintained, licensed, and replaced. The cost of having physical hardware in your office includes the machines, the accessories, and the space. More on this in Part 2 of this series.
If your small or medium sized business moves to The Cloud, you don't have to pay for a server or budget the cost of maintaining your network infrastructure to support your 20 users. Instead, you migrate to The Cloud and from there you manage licenses. This is a pay-per-month license where you can scale your costs much more effectively than you can with a physical server. If your business moves from 10 to 8 people in one month, you can reduce cost by 2 users immediately by removing two licenses. There are some serious benefits for small organizations when it comes to cost effectiveness and The Cloud.
What Helps Businesses Save Money?
The simplicity of moving to The Cloud is what saves businesses money. As mentioned in the previous paragraph, assigning licenses is essentially the limit that a company needs to manage their cost. This is opposed to the long list of items that you would need to keep track of for physical equipment.
Businesses that are remote or hybrid will benefit the most from moving to The Cloud, as a decentralized business is hard to manage with physical assets. But with The Cloud it's simple, and in some cases it can make you money by saving you time. That said, companies that are in office will also benefit from moving to The Cloud because of it's simplicity.
One item we have not mentioned is the importance of security. It's not something most of us remember but is absolutely critical to your business. You don't have to worry about the physical security of your server room, and it's easier to control the physical security of your endpoints (workstations). Microsoft does this with Azure Endpoint Manager. In an example scenario, if you have an disgruntled employee that goes off the wall one day, it's completely possible to wipe that employee's machine of all company data as to not risk it meeting the public eye. This is a HUGE advantage!
Final Thoughts
In conclusion, moving to The Cloud is the modern way of doing business. That said, there isn't anything wrong with keeping local servers, but know that this is technology that was invented 20+ years ago. The Cloud is a complete rethinking of how we manage businesses and technology, and it will radicalize the corporate world as we know it.