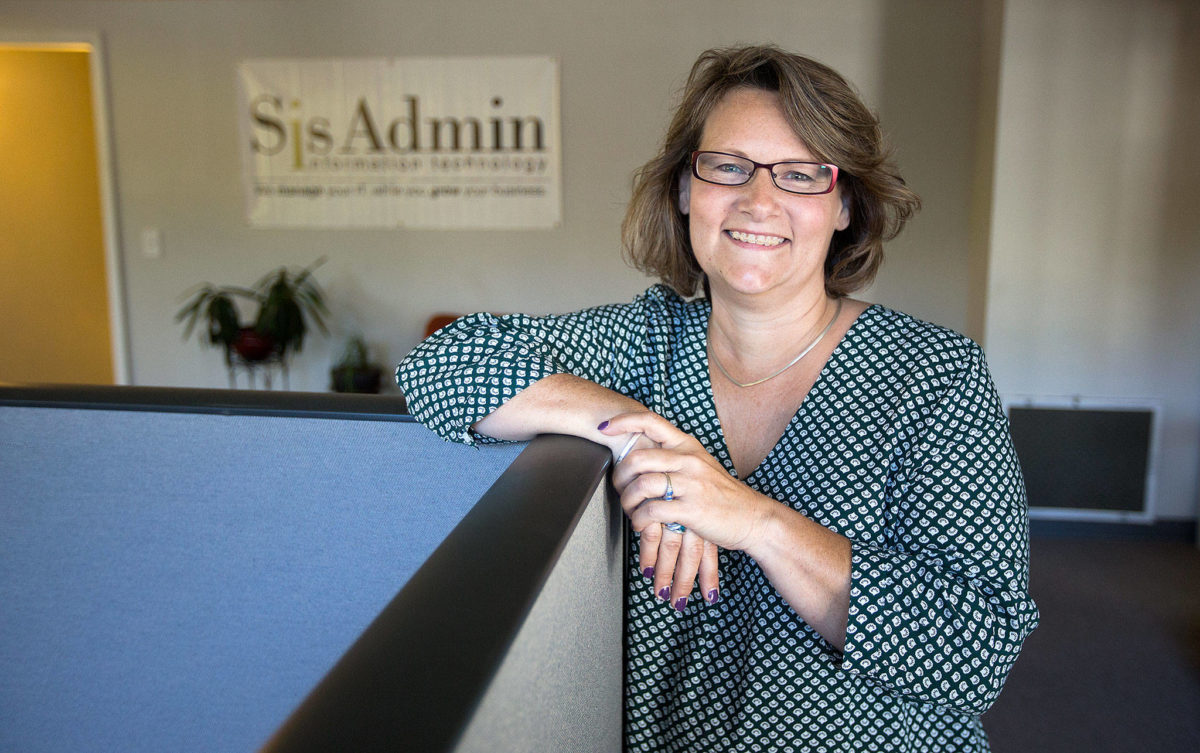 How Max Headroom and an itch for saving the day got her into IT

SNOHOMISH — At 11 years old, Mary Burris had a clear vision for her future. She wanted to own her own business, and envisioned a tight-knit team of employees working to make a difference.

Hopefully it would become part of a vibrant community with small-town charm.

Burris made dreams reality. She founded SisAdmin in 2000, which provides IT support to small- and medium-sized businesses ranging from accounting firms to construction companies. Clients average 20 to 100 computer networks with SisAdmin serving networks upward of 200. SisAdmin's staff of 12 includes family members, but everyone is made to feel like family.

"All of it is a dream come true," Burris says. "This profession is my passion. I'm one of those lucky people who gets to do what they love."

As a young woman, Burris was drawn to graphic and computer-aided design.

It was the 1980s and Max Headroom, a computer-generated character, was inspiring imaginations, including Burris'. However, a clear career path did not yet exist, so she redirected toward IT.

"I think most people in the IT world, especially in the service part, want to be the hero. We want to help save the day for people," Burris says. "Solving puzzles is the other aspect. I like taking messy networks and making sense of it. It's like a big knot that you untie and transform the chaos into order."

IT support is crucial to a company's success. Seattle's Johnson Barrow, Inc. specializes in HVAC (heating, ventilation and air conditioning) with offices in Washington, Oregon and British Columbia.

As the company has grown, SisAdmin has provided support and helped connect Johnson Barrow's regional offices.

"If our tech goes down, it's terribly bad," says Tony Melchoir, controller at Johnson Barrow. "Pricing modules are on factory specific software, so we're basically incapacitated if the network goes down. It's vital that we're up and running at all times."

Melchoir appreciates the level of service that comes from supporting a fellow Northwest business.

"I can call and directly speak to someone right away. It's nice knowing the actual people who are running it and supporting a local, small business rather than being outsourced by a giant conglomerate," Melchoir says.

Such customer loyalty speaks to the success of SisAdmin's business approach. The path to a productive bottom line is a blend of competency and customer service.

"Sales are through the roof this year and people have asked what we're doing differently," Burris says. "I think we're just concentrating even more on what we do well. I communicate with customers like they're friends. I treat them with respect and kindness. I approach people how I want to be approached."

Due to booming success, SisAdmin is having to revise its five-year goals and business plan.

From January to July, the company already had overshot expectations and nearly doubled its monthly recurring revenue.

"People are tired of just being a number. As the world and IT gets bigger, people are circling back to wanting a personal touch. We're both high quality and hands-on with our clients," says Elisabeth Clark, SisAdmin's virtual chief information officer.

In 2017, SisAdmin restructured to address its growth. As CEO, Burris stepped away from a close focus on day-to-day operations and personally overseeing client projects, operations and workflow.

She is now focused on sales development and steering the company's overall course.

Her leadership as a female role model is also important to the wider tech community. Early in her career, Burris built and repaired PCs. She experienced male customers demanding that they "didn't want a woman working on their computer."

"There are women in other positions, but not as much on the technical or ownership sides," Burris says.

SisAdmin's staff includes female employees working all aspects of the business. Clark performed IT work in the military for 21 years and was a stay-at-home parent for seven years. She joined SisAdmin's team four years ago.

"I've experienced the negative aspects of being a female in the IT field," Clark says. "Mary nurtures the growth of everyone's career. She recognizes there are seasons of life. When I was coming back into the working world, she brought me on, retrained me as needed and I've grown in different areas of the company."

Clark's daughter sometimes accompanies her to work and has marveled that, "Your boss is a girl?"

SisAdmin is building a better work culture from the circuits up.

The company's next chapter could include expansion. The client base already extends from north in Bellingham to Portland, Oregon.

Options haven't been formally researched, but additional offices could eventually be on the horizon while remaining headquartered in Snohomish County. SisAdmin's recently relocated from the Mill Creek/Bothell area to the heart of downtown Snohomish.

Its new home is a 1908 historic building.

At just more than 8,000 square feet, Burris foresees SisAdmin sharing the space with other tenants.

The move also signals the final realization of Burris' childhood dreams. She now owns a business located on the corner of a bustling community.

"I love Snohomish. It's actually growing quite a bit. You can see a lot of renovation and revitalization in the old downtown area.

"We're within walking distance from the farmers market and in the midst of such a good community. It's a great place to be," Burris says.